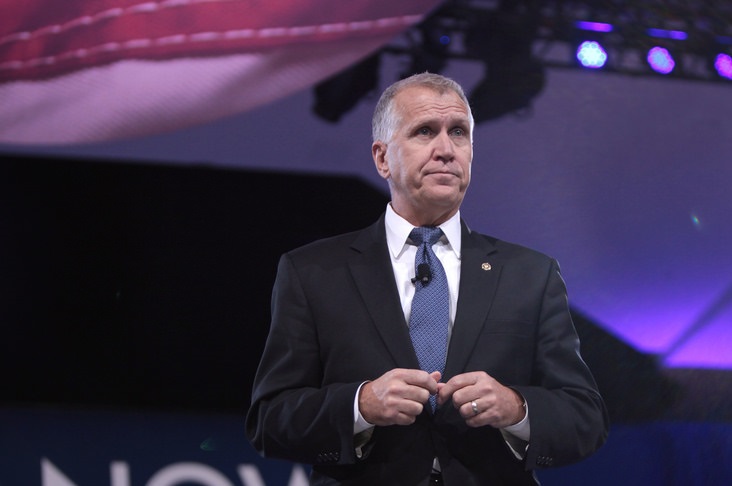 Republican turncoat Senator Thom Tillis of North Carolina has joined with Democratic Senator Chris Coons of Delaware in crafting a bill to ensure Robert Mueller and his band of Democratic donors can overthrow our democratically elected president.
From The Washington Times:
A bipartisan team of senators introduced a bill Thursday to protect the special counsel from meddling by President Trump, as an emboldened Congress takes more swipes at the White House.

Sens. Thom Tillis, North Carolina Republican, and Chris Coons, Delaware Democrat, wrote the bill to create a judicial review should a president try to remove a special counsel.

The bill would write into law current department guidelines governing who can fire a special counsel, and make them retroactive to this year's appointment of Robert Mueller, who was named special counsel to probe Russian meddling in the 2016 election — including dealings with Trump campaign figures.

If Mr. Mueller or any future special counsel were to be fired, the decision could be challenged before a special panel of three federal judges.
Turncoat Tillis went straight to CNN to bask in praise from the lying press.
This legislation creates a judicial review process to prevent the removal of special counsels without good cause. http://bit.ly/2wp9NEe 
Joining @CNN to discuss the Special Counsel Integrity Act I introduced with Senator @ChrisCoons. Tune in!
We need a special counsel to investigate who is blackmailing Turncoat Tillis into supporting this bill.
As Newt Gingrich said last month, the Mueller investigation "has so many conflicts of interest, it's almost an absurdity."
"The law firm that he came from, gave 99.81% of its donations to Hillary Clinton last year," he said.
"The people that he's been hiring are all anti-Trump lawyers. It's hard to understand why he would assemble such a team unless it was a deliberate effort to go after the president and the president's team. I don't understand why the House and Senate Judiciary Committees aren't investigating a lot of this stuff," Newt said.
He continued: "The point you made about leaks is a perfectly good example. The leaks have to be coming from inside Mueller's team. So who's leaking? Why is nothing being done about it? Why are people not being fired? I think it's very reasonable to say that this is a very dangerous witch hunt that Mueller keeps expanding because he can't find anything in the original charge. "
"He's not going to find anything about Trump and Russia, and yet he's hired all these guys who have given up their very expensive law services to come out and try to get somebody. And they're going to eventually find somebody to prosecute because there are too many lawyers being paid too much money for them to go home having accomplished nothing."
It's only gotten worse since, with Mueller hiring another Democratic donor, Greg Andres, just last week.
Source: https://www.informationliberation.com/?id=57131